Shalom & Greetings Brothers & Sisters:
The Elders of the Gathering of Christ Church would like to invite you to enroll in the Hebrew & Bible Academy which begins:
Sunday, September 16th, 9:00 AM EDT
We would like to thank all those that participated in the last academy. We had brothers and sisters from all over the world take part and received dozens of emails afterwards of their appreciation… here is a testimony that stood-out:
"My brain is tingling and my spirit is shouting right now…I've heard your YouTube lessons before but what I just took part in was more enlightening than I could have imagined! Thank you for all u do! And of course all praises to Ahayah Bahasham Yashaya Wa Rawach."
We thank the Most High for allowing us to teach the Academy every week and we thank all of you for your continued support. If you have not yet been a student in the Academy or are a returning student now is a great time to enroll as we are happy to announce we will be continuing with several new lessons including a brand new lesson on the book of Revelation!
Don't have a computer or you're on the go? Not to worry, now both video AND CHAT are fully accessible on smartphones and tablets!
The Hebrew & Bible Academy
Streaming on an improved platform via Ustream, the Academy is a 3-month online Hebrew, Bible & History course. The Academy includes 12 live weekly biblical lessons each Sunday from 9:00 AM–2:00 PM EDT via Ustream. Due to changes on the Ustream platform all Ustream free basic accounts will become inactive and inaccessible on August 1st, 2018.This will mean that the Ustream accounts you use to log into the chat will no longer be active. Please note that you will NOT need to purchase a Ustream Pro account to continue to watch and participate in the Academy. Instead, you will simply be able to create a chat nickname to use the chat by clicking on the chat text box area. Once you create a chatname please email us to let us know as this will replace your Ustream name that we identify you by. For convenience, we do advise you keep your chatname the same as your current Ustream username so that you don't need to update your details with us. Should you have any questions please email us at gatheringas1@aol.com.
We provide an introduction to the Original Hebrew Language including Conversational Hebrew, Grammar and in-depth teachings on the True History of the World and of course the World News with Elder Rawchaa & Deacon Shapat.  Also, NEW to the academy, on the ground interviews from brothers & sisters reporting real-time News from around the world!
If you miss any of the live classes, we will automatically email you the video lesson recordings to watch online. To enrich your learning experience, these classes include brand new PDF booklets and lessons.
12 Lessons in All
Six are brand New and all other lessons have been revised to include new insights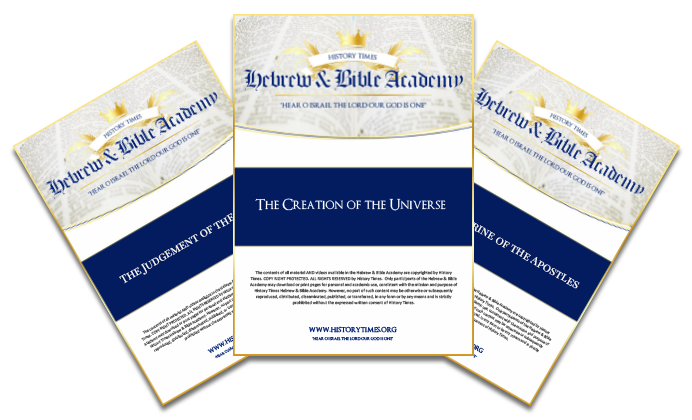 Israelite Doctrine – Past and Present (Pharisees and Scribes)
Islam and Judaism Exposed
Revelation
Revelation – The End of the Nations' Empires on Earth
The Elders are very excited about the enhancements offered for the academy! They have set aside valuable time to personally teach in this classroom setting. In addition, all who complete the academy will receive the elders' personal copy of their precept booklet and bible breakdown that they used while street preaching in Babylon.
Watch our Academy Infomercial
What Past Participant's Say
My brain is tingling and my spirit is shouting right now…I've heard your YouTube lessons before but what I just took part in was more enlightening than I could have imagined! Thank you for all u do! And of course all praises to Ahayah Bahasham Yashaya Wa Rawach.
The academy was incredibly thorough and full of pasion and love. I am grateful for the knowledge, patience and undersanding put forth,truly. Seriously, Thawadah Brothers for all you have done.This was a life shifting experience.Sodom watch was wild (Thanks Brother Mark for all your well researched contributions). The documents are oustanding Elder Lawya. Loved,loved Ancient Hebrew. Dynamic and poignant deliveries of the lessons Elder Rawchaa; you brought the scriptures to LIFE! You so beautifully compelement each other, the balance of your teaching styles. Thank you to everyone behind the scenes who was integral to the success of this academy. You are appreciated!
Thank you Brothers and Elders –
I am happy to be a part of the Academy and happy that I get to support brothers like you that are committed to the work who I love and trust.
I really love the academy so much – I already signed up for the next academy and this will be my 5th Bible Academy in a row!
Excellent; great work Elders.
The academy is a wonderful blessing
Excellent academy, I would suggest making it as mainstream as possible. Replace the current so called education system.
Excellent; I have no suggestions to improve it,just keep doing what you are doing. Thank you so much, may Ahayah bless you and I will see you in Zion.
The Class fee is *$150 per person for the full 3-month course and can be paid upfront or in 3 monthly payments of $50 each.
Step 1: To enroll please make a payment using one of the following methods:
To make a payment using a major credit card or debit card please click on the "Pay Now" button
To pay via PayPal  select:
"Paying for goods and services" and please send to PayPal at: richmsheppard@aol.com
Then click the "Confirm Payment" button below to send us your details.
Richard Sheppard Jr
P.O. Box 946
2000 Hamilton Street
Philadelphia PA 19130
215.253.4448
Please be sure to include your email address and state "Academy" so we can apply it correctly.
Step 2: Once you've completed your transaction please click on the "Confirm Payment" button and provide your payment details in the form, we will then email your welcome pack.